Number 6 on my top ten albums of the last decade list: the first and best of the two White Stripes albums I got to know.
#6
The White Stripes
White Blood Cells
[2001]
My first encounter with The White Stripes' music occurred late on a Friday night in early November 2001. It was when this graced my television screen:
Prior to this I was mildly familiar with them. Not from hearing either of their first two albums, which I hadn't – and still haven't. No, at this point I had read a fair bit about them:  their lack of a bass player; about their strict dress code; the exact nature of their mysterious relationship. Each a gimmick to a certain extent, I suppose. But they did the trick: creating an awareness. Not enough of an awareness for me to go out and get any of their music, but enough for me to sit up and pay attention when they came on. Of course, even if I'd been completely unfamiliar with them, I imagine I'd have sat up and paid attention a few seconds into the song. It was raw. It was quick. It was short – all you want from a song, really.
A few months later, the world was treated to this piece of Gondry-shaped Lego-utilizing genius: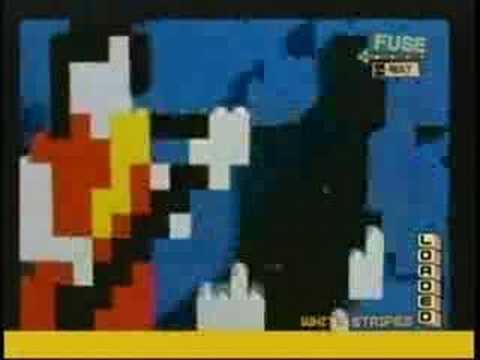 Brilliant. And quicker. And shorter – 'Fell in Love With a Girl' is one minute and fifty seconds long. That's all you really need. Okay, so that's one of the shortest songs on White Blood Cells, but the longest is still only 3:39. A quick calculation tells me that… the average song-length on the album is two minutes, thirty-one(-and-a-half) seconds. The brevity just added to the "limited" nature of the album. Most of these limitations were self-imposed: "no bass, no blues, no guitar solos, no slide guitar, no cover songs, no other musicians." [source] The album was recorded in only three days, too. "We tried to rush this as much as possible to make [the sound] really tense. And it seemed to work." [source] All this did work, ensures a great deal of cohesion in sound and arrangements. At the time, I thought this restrictive approach was really cool. I'd later learn first hand how useful and inspiring it can be as well.
Still though, I hadn't actually heard the entire album when the 'Fell in Love With a Girl' video came out. Nor had I heard it by Friday, 28 June, 2002, when I saw them play at the Rock Werchter Festival in Belgium. Though I was interested in seeing them play, my main motivation for being at that stage at that time was to claim a spot for when Sonic Youth came on. Still, I was suitably impressed by The White Stripes. And, I'm sure, it was at that point, I resolved to go and get the album eventually.
I never did, though, because soon after, my little sister (12 or 13 at the time) ended up getting it! She was also the one who got their fourth album, Elephant, when it came out. So, yeah, I've never actually gone and got a White Stripes album by myself.
That never stopped me from enjoying White Blood Cells though. And I enjoyed it – and continue to enjoy it – ferociously. As I said before, none of its songs outstay their welcomes. Right away, each song gets straight to the point, makes its point, then moves aside for the next song to do its thing. That's not to say the songs are without substance. Just because they're short, it doesn't mean there isn't a lot in them. Take 'The Union Forever' – it fits an entire film into it. 'We're Going to Be Friends', though playful and twee, captures the essence of childhood nostalgia. 'I'm Finding It Harder to Be a Gentleman' – I'm sure I've said it dozens of times on this blog already, but I'm never really too interested in lyrics – but, lyrically, what a song!  Even 'Little Room', with its thrashing drums, lack of guitar and wordless warbling, perfectly encapsulates a mental state that affects everyone. The lack of clutter definitely allowed the words more space to work themselves into my brain. And Jack White's voice made sure they stayed in there.
Best of all was the very first song on the album, 'Dead Leaves and the Dirty Ground'. Which was released as the album's third single and also got a fantastic Michel Gondry video:
That little scream of feedback, followed by that growling riff – what a way to kick off an album. But the song balances these heavy elements with sweet lilting verses and lines like "every breath that is in your lungs is a tiny little gift to me". The song is so good, it seems they decided to use it again on their next album!
Yes.
That next album, the aforementioned Elephant, was good – often great. But it wasn't as consistently brilliant as White Blood Cells. Their final two albums – like their first two – I never actually listened to.  I have no idea why. I didn't suddenly turn against the band – and it's not like they drastically changed what they were about.  I even went to see the Under Great White Northern Lights film in the cinema and thoroughly enjoyed it. We just seemed to part ways. Which is sad, now that they're gone for good. Perhaps I will get albums five and six now. The thing is, I already know they're going to be very good. But are they going to be White Blood Cells good? That's the "problem" (that one every act wishes they had) with releasing incredible albums like this. It invariable becomes this yardstick against which its successors are judged. It, often unfairly, raises expectations. And with a band like The White Stripes, whose M.O. is doesn't really seem to change a whole lot between albums, differences in quality cannot be shielded by differences in styles and techniques.
But that's a brave move – one that deserves respect. More respect than I've given the band. Yes, I think I'll give those two a listen too. Perhaps one (or both) might appear on a revised future version of this list. And I should probably give those first two albums a go too.
For now though…